Packed with fun attractions and activities for the whole family!
When you visit Jellystone Park™ Niagara you, your family and friends can enjoy all of the onsite amenities that include a heated swimming pool, a giant water slide, playground jumping pillow and more! All fun aside, there are also laundry facilities, large shower and restrooms.
The best just got better!
NEW FOR 2024 - All Inclusive Water Zone!*
SPLASH PAD - SWIMMING POOL - GIANT WATER SLIDE
The best just got better!
NEW FOR 2024 - All Inclusive Water Zone!*
SPLASH PAD - SWIMMING POOL - GIANT WATER SLIDE
THE ALL INCLUSIVE WATER ZONE WRISTBAND INCLUDES USE OF THE POOL, THE GIANT WATER SLIDE & THE NEW AQUA PLAYGROUND!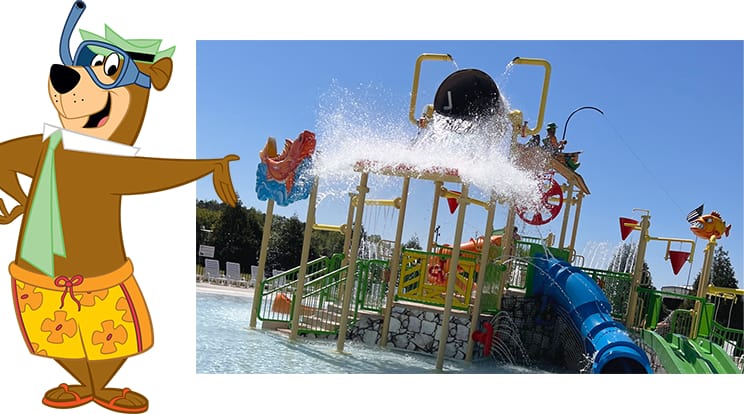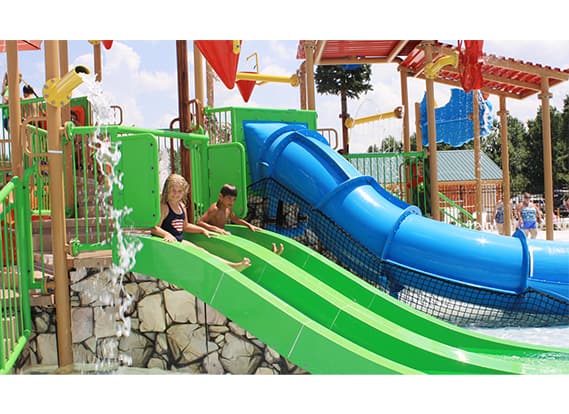 Jellystone Park™ Niagara is starting the 2024 Season off with a SPLASH!
OUR NEW WATER ZONE OPENS June 28th, 2024 ...So BOOK EARLY!
Aqua Playground includes • Fountains • Slides • Waterslides • Giant water dump bucket • Splash pad
Heated Swimming Pool
Spend a relaxing afternoon around the pool deck with your family and enjoy a quick dip after a day of exploring the Falls.
Opens May 20th, 2024 - September 15th, 2024
Giant Inflatable Waterslide
Home of the world's tallest inflatable Hippo Waterslide, campers of all ages will enjoy the ride of their life! Wristbands will be provided at check-in. Riders must be 42" tall to ride.
Opens July 1st, 2024 - Labour Day (September 1st, 2024)
18 Hole Mini Golf Course - $4.00 per play
Our challenging Mini Golf is open daily until 9pm. Clubs and balls are rented at the front office.
Inflatable Jumping Pillow
Kids and adults love this attraction at Jellystone Park™ Niagara. One of the largest inflatable trampolines of it's kind. It's a great place to meet new friends and bounce away!
Who knows, you may catch Yogi Bear™ or Boo Boo™ there!
Bouncing Pirate Ship
ARRRG Lil Campers! This fun inflatable, is just for you! Lil Campers must  be 36" - 59" tall to use The Pirate Ship safely.
Open weekends starting July 1st, 2024 - September 1st, 2024
Playground
Situated centrally in the park, our new for 2024 multi-level playground has four(4) slides, a climbing web, swings all on a multi composite surface for safety and fun!
Games Arcade
This air conditioned arcade is a great place to cool off and challenge yourself or friend to some car racing, foosball or a friendly game of pool. Here you can find some classic arcade games too!
"Beach" Volleyball Court
Stop by the front desk for a ball and start your own game with some friends or set up a family tournament on the sandy "beach" court!
Basketball Court
This concrete court is all ready for you to shoot some hoops. Word is out that Ranger Smith™ likes to play! Balls are available at the front desk.
Shuffleboard, Bocce Ball, Horseshoe Pits
Family fun is ready and waiting! Drop by the front office for equipment and enjoy the all of the games!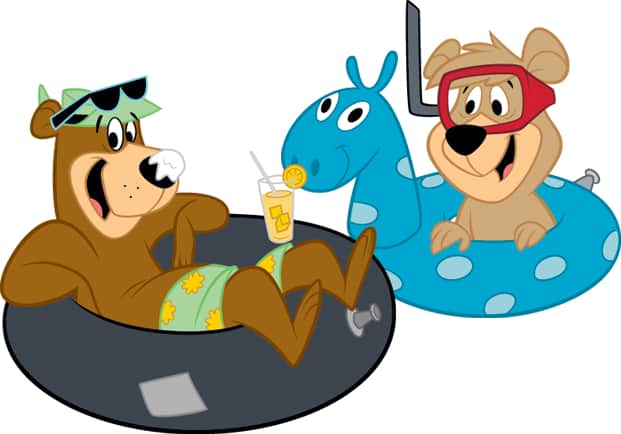 Front Field Game Area
This area is a perfect grassy spot to enjoy, whether it's tossing a baseball or maybe playing our bean bag toss game (equipment at front office ), or just simply relaxing.
Pedal Carts Rentals - Starting at $15.00
What a perfect way to leisurely tour Jellystone Park™ Niagara! We have 15 different carts to choose from and can be rented from the front office!
Community Fire Pit
There are fire pits on every campsite, but you can always join a group at the Community Fire pit. Share your days adventures with others, or maybe find out about something you might have missed. Roasted marshmallows may be involved.
Recreation Hall
Jellystone Park™ Niagara has a season calendar of events in the park. Check the calender to see what might be going on while you are here!
Yogi Bear™ Outdoor Theatre
Check our recreation calendar to see what movie might be playing during your stay here at Jellystone Park™ Niagara. Bring a snack or drink with you or purchase fresh popcorn at the Rec Hall before the movie starts!
Pavilion Area
Always a hub of activity, the pavilion is often host to dances, bingo, crafts, games and more!
Laundry Facilities
Who wants to do laundry while on vacation? But in case you do, you will be happy to know we have modern clean coin operated laundry facilities in case the urge strikes.
Modern shower and washrooms
Recently renovated Jellystone Park™ Niagara offers three shower and washroom buildings in the park plus a new accessible washroom with it's own shower and toilet facility.
General Store
In case you forgot marshmallows or anything else, drop by our on-site convenience store, for basic grocery items, snack and some Yogi Bear™ and Niagara Falls souvenirs!
WiFi
If you need to stay connected, we have WiFI throughout the park. Two FREE passes issued at check-in. Additional passes available 2 for $5.00
MO

TU

WE

TH

FR

SA

SU
27

28

29

30

1

2

3
4

5

6

7

8

9

10
11

12

13

14

15

16

17
18

19

20

21

22

23

24
25

26

27

28

29

30

31
1

2

3

4

5

6

7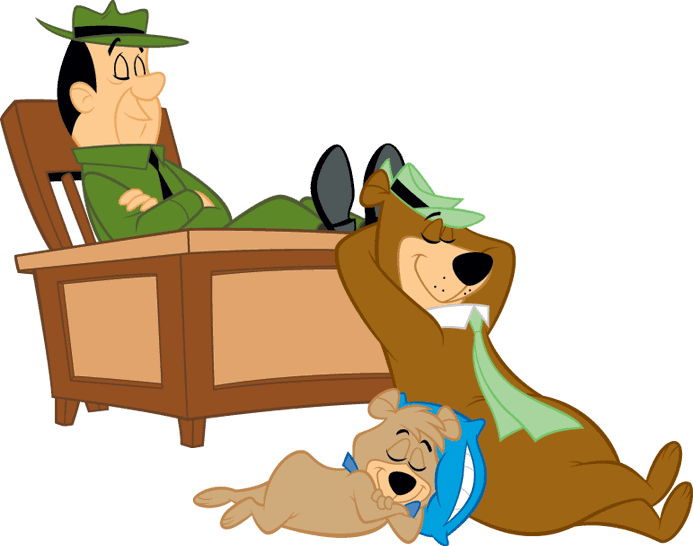 Advance Deposits & Cancellations
Campsites:
1 nights deposit required. Cancellation refund less $15 service fee for cancellations made at least 2 days in advance of your arrival.
No refund under 2 days or due to weather conditions.
The $20 site lock fee option is non-refundable.
Rentals:
50% deposit due upon reservation, balance due upon check-in. $100 security deposit due upon check-in and returned at check-out for an undamaged unit. Cancellation refund less $30 service fee for cancellations made at least 14 days in advance of your arrival.
No refund under 14 days or due to weather conditions.
Form of Payment
Advance deposits:
We accept Master Card, AMEX or Visa, over the phone.
Upon Arrival:
Master Card, AMEX, Visa, Cash or Debit Card. We accept U.S. currency for all purchases at a set exchange rate. Exchange rates will vary.
Requests for Specific Sites or Rental Units:
We try to satisfy requests but do not under any circumstances guarantee specific site numbers or rental units. Sites and rental units are assigned upon arrival and availability is dependent on the circumstances for that day. Please choose to lock your site number for Campsites and RV Site reservations when selecting sites.
For Group Bookings, please indicate all other group members when reserving.
Check-in / Check-out
Campsites:
Sites are available for check in after 1pm. Campers must be out of the park before 11am (subject to change without notice).
All tents must arrive and set up before 11pm!
Rentals:
Customers must vacate the rental unit by 11am.
Check-in to rental units after 4pm. If you are unable to make these times please contact the office.
Discount cards, coupons and member rewards:
Must be presented at the time of check-in. We accept Good Sam and Club Yogi Rewards. One discount or coupon per stay. Discounts cards do not apply to rental units unless specified.
General Information
Pets:
Two (2) pets per site in your RV. Pets not permitted in or outside any rental units. Pets are not permitted if a tent is your only means of accommodation. Pets must be on a short leash and supervised at all times. They are not permitted inside any park building, around the recreation areas, playground area or pool areas. Pit bulls, Rottweilers, Dobermans and other guard/attack dogs are restricted and management must approve entry into the park. All pet waste must be picked up, bagged and deposited into trash bins. Loud or excessive barking will not be tolerated.
Visitors:
If you plan on having visitors to your campsite, they must first stop at the office, register and pay to enter the park. Our visitor fees are $15 per person In Season, and Spring/Summer & Off Season $10 per adult and $7 for per child. There is a $10 fee per day for an additional vehicle. Visiting hours are between 11am to 10pm.  All visitors must be out of the park by 10pm (enforced). All visitors must have their car pass displayed prominently in the windshield of their car at all times. No vehicle may pass through the gate without a valid car pass. You may not have more than six visitors at one time in the park. Visitors may not bring pets into the campground. Site occupants are fully responsible for visitors and their actions while in the park.
Groups of 8 or more must not congregate, occupy, serve meals or hold meetings in one area after 11pm. Please make arrangements with the management if you are planning a gathering of any kind.
Gate Code:
This code is issued by the front office and is for your security. Do not pass your gate code to anyone (including your visitors). Customers caught passing a gate code will be immediately evicted from the park without a refund.
Quiet Hours:
11pm - 8am.
No loud radios, excessive drinking, partying, or disturbances at any time. All radios, bright lights, and outdoor TVs must be turned OFF by 11pm. Children must be at their campsite by 11pm, no wandering or bike riding after dark. All fires must be extinguished by dousing before 1am.
Pool:
Adult must accompany children under 13 years of age. Swim diapers required for toddlers. Bathing suits only (no street clothing). Pool summer hours 9am-8pm (subject to change without notice). Pool opens for the season on the Victoria Day weekend and closes September 15th.
Water Zone:
Will be open from June 28th to September 1st, 2024 from 11am to7pm (subject to change without notice). All guests must wear the wristband provided to you at check-in by our registration staff. You may not transfer your wristband to another guest. Doing so may result in lost privileges or eviction from the park.
Large Motorized Recreational Vehicles:
Vehicles such as scooters, mini bikes etc. are not to be driven at the park. Customers bringing their own golf cart must be approved ahead of time by the manager. Customers must agree to follow the rules of the road, posted speed limits and stop signs, provide insurance, and carts must be driven by a licensed adult and may not under any circumstances drink and drive or be intoxicated while driving!
Park Speed Limit - 10km/hr
Firewood:
You may not bring firewood into the campground. Transporting firewood is strictly prohibited by the Ontario Ministry of Natural Resources. It cannot be legally transported across international borders. Firewood for use in our park is available for purchase at the campground store before 11pm.
Campfires:
You may not start a fire after 11pm. Fires must be kept at a low level (under 18" high) and within the fire ring provided for the safety of you and other campers. All fires must be extinguished by dousing by 1am. Do not leave your fire unattended! In the event that there is a regional fire ban customers must obey the local bylaws or they will be evicted from the property immediately with no refund.
Do not BBQ on park picnic tables or on rental unit decks.
One picnic table and fire ring per site.
Trash:
Do not throw trash, food, plastics, cigarette butts, bottle caps, diapers or cans on the ground or in and around fire rings. Violations will result in a $30 cleanup surcharge added to your bill. Place trash bags or recycle material in the designated dumpsters (see map). We have garbage bags available at the office for your convenience. Fireworks & Sparklers are NOT permitted in the park.
Drugs and Alcohol:
The use of marijuana or any illegal substances are not permitted at our park. Any alcohol must be consumed in moderation and kept in plastic cups or cans. Smoking cigarettes and drinking alcohol is not permitted at or inside of our public areas such as the playground, pool area, office, restroom or rec hall buildings. Cigarettes must be extinguished in a proper receptacle and not thrown on the ground or in the fire ring.